Kamineni Hospitals to conduct Free Heart Check-up
Hyderabad: In commemoration of World Heart Day, observed globally on September 29th, Kamineni Hospitals is championing heart health by offering a FREE HEART CHECK-UP to the public at its LB Nagar and Vijayawada locations. Under the banner of "Livefromtheheart," this initiative reflects the hospital's commitment to community well-being.
As part of this significant effort, Kamineni Hospitals is providing an Exclusive Free Heart Health Check-up Package on September 29, 2023. The package includes critical diagnostic tests such as ECG, 2D Echo, and a consultation with a cardiologist, all at no cost.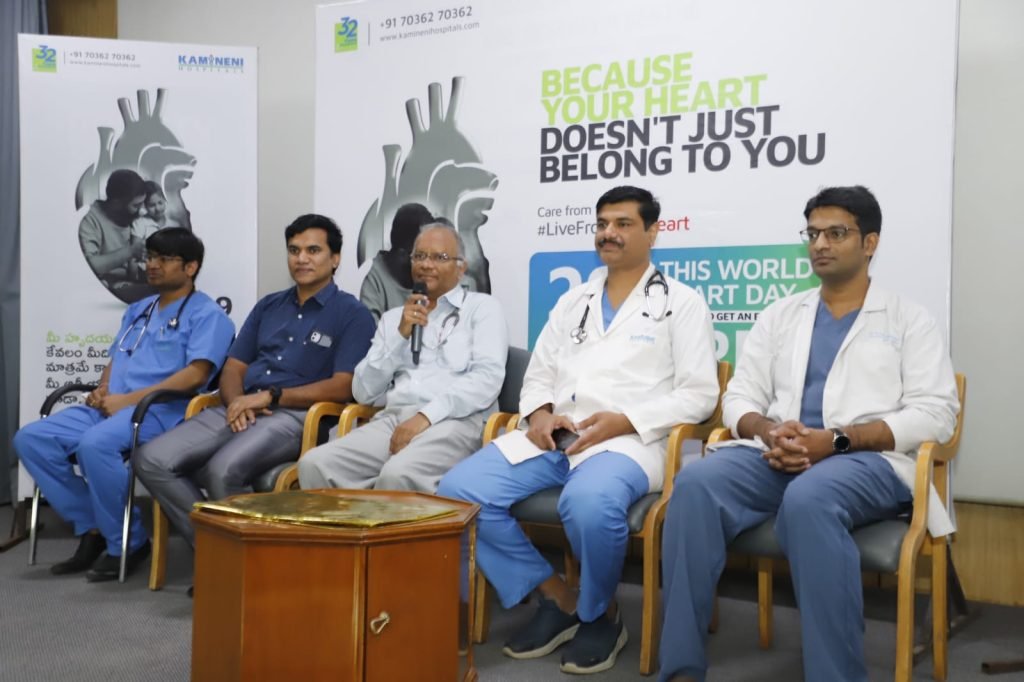 In a groundbreaking move, Kamineni Hospitals is also extending support to individuals requiring angiograms. Those recommended by the medical team for this procedure can undergo it free of charge, ensuring that financial constraints do not hinder a comprehensive heart health assessment.
Dr. Gayatri Kamineni, Chief Operating Officer (COO) of Kamineni Hospitals, expressed the hospital's deep commitment to community health, stating, "World Heart Day serves as a reminder of the importance of maintaining a healthy heart. With our Free Heart Health Check-up and Angiogram program, we aim to encourage individuals to take proactive steps to maintain their cardiovascular health. By offering these essential services at no cost, we hope to make a positive impact on the lives of many."
Dr. Sagar Bhuyar, Senior Cardiologist, emphasized the importance of early detection and intervention, urging those with a history of heart problems or risk factors to take advantage of this opportunity for a comprehensive heart health assessment.
The Free Heart Health Check-up (including Free Angiogram) will be conducted on 29th September between 10.00 am and 4.00 pm at Kamineni Hospitals, LB Nagar – Hyderabad, and Poranki – Vijayawada. Senior Cardiologists, including Dr. Seshidhar Madaka, Dr. A Ravikanth, Dr. M.R.M Babu, Dr. Sagar Bhuyar, Dr. Rajesh Deshamukh, and Consultant CTVS Surgeon, Mr. Satyanarayana, along with Group Head – Marketing, Kamineni Hospitals, participated in the launch of the FREE HEART CHECK-UP package. This initiative aligns with Kamineni Hospitals' mission to provide accessible healthcare of the highest quality.