Kamineni Hospitals offers Free Liver Health Check-Up on the occasion of World Hepatitis Day 2023
Hyderabad: Kamineni Hospitals, a leading and affordable healthcare provider in Telangana and Andhra Pradesh, has announced FREE LIVER HEALTH CHECK-UP for all on the occasion of World Hepatitis Day (July 28). This initiative aims to raise awareness about hepatitis, its evolution, and the importance of early detection and prevention. This year's campaign focuses on the theme "One Life, One Liver."
As the modern lifestyle, changing food habits, and an increasing number of adulterations pose challenges to our liver health, we are witnessing a surge in chronic diseases. The liver, which performs over five hundred functions including receiving nutrients from food, filtering the blood, and fighting disease-causing microorganisms, becomes vulnerable when attacked by hepatitis viruses. Failure to detect and treat this condition promptly can lead to the liver's eventual failure to perform its vital functions, as all liver cells become damaged, inhibiting the organ's special ability to regenerate.
Hepatitis is liver inflammation caused by infectious viruses and non-infectious agents, resulting in various health issues, potentially fatal. The main strains of hepatitis are A, B, C, D, and E, differing in transmission, severity, and prevention methods. B and C cause chronic disease, leading to liver cirrhosis, cancer, and death. About 354 million people have hepatitis B or C worldwide, but testing and treatment are limited. Vaccination can prevent some types. The World Health Organisation (WHO) aims to prevent 4.5 million premature deaths by 2030 through vaccination, diagnostics, medicines, and education. Their strategy targets a 90% reduction in new infections and 65% decrease in deaths by 2030.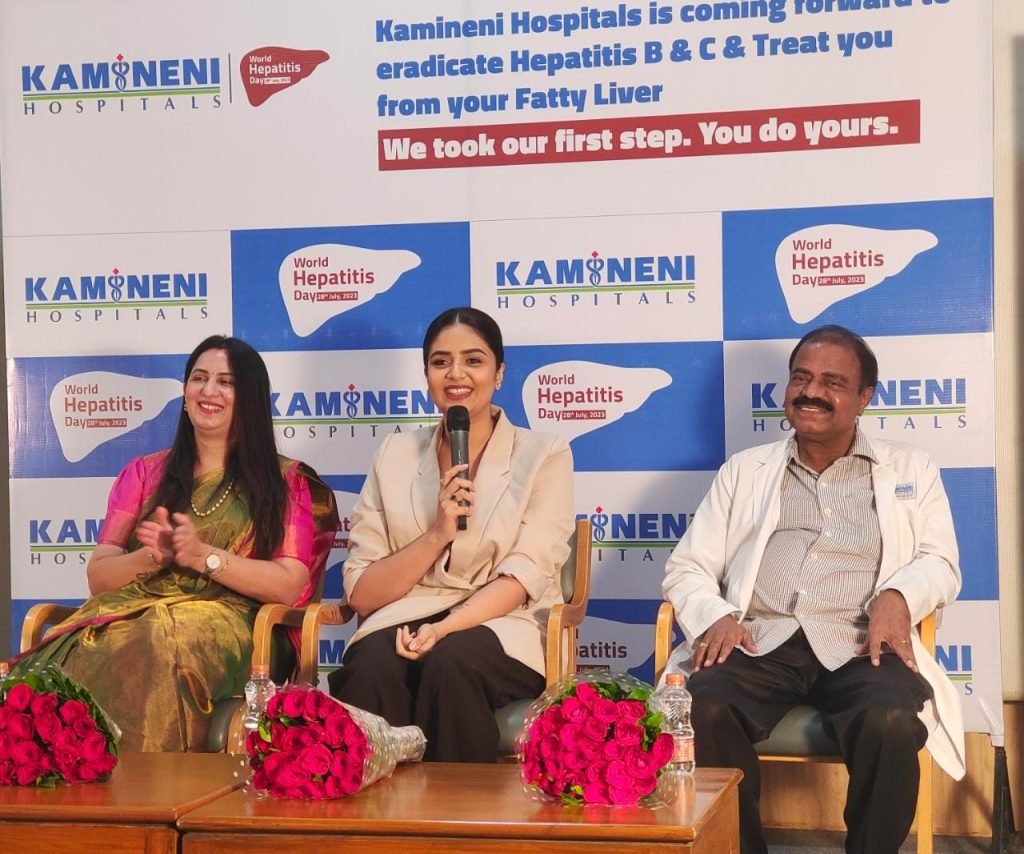 Speaking on the occasion, Dr. Gayatri Kamineni, Chief Operating Officer (COO), Kamineni Hospitals, said, "As part of Kamineni Hospital's commitment to improving public health, the Free Health Check-up on Hepatitis Day will offer participants an opportunity to undergo comprehensive health screenings. The hospital's team of highly skilled healthcare professionals will be on hand to provide valuable insights, raise awareness about hepatitis, and educate attendees about preventive measures."
As part of this year's World Hepatitis Day campaign, Kamineni Hospitals is taking proactive steps by organizing a series of awareness programs to empower the public with knowledge about liver diseases, their risk factors, and preventive measures. To further support this noble cause, Kamineni Hospitals is pleased to announce that it will be offering FREE LIVER HEALTH CHECK-UP to the general public on July 28th, from 10:00 am to 3:00 pm at Kamineni Hospitals, LB Nagar, Hyderabad. These initiatives aim to promote the importance of early detection and timely treatment, ensuring a healthy future for all.
Dr. Kavya Dendukuri, Lead Hepatologist & Gastroenterologist at Kamineni Hospitals, LB Nagar, Hyderabad, stated, "We cannot ignore the growing impact of fatty liver disease on the health of populations across the globe. This World Hepatitis Day, we urge individuals to take charge of their liver health and be aware of the potential risks. Early detection and timely medical care play a critical role in managing fatty liver disease effectively."
Welcoming the initiative, Ms. Sreemukhi, Television presenter and actress, expressed her support, stating, "I am delighted to welcome Kamineni Hospital's thoughtful initiative of offering Free Liver Health Check-Up on World Hepatitis Day. It's crucial for everyone to understand the importance of good health and to get regular check-ups to safeguard against liver diseases. Together, we can promote a healthier future for all."
In line with the mission to combat hepatitis and promote liver health, Kamineni Hospitals and its esteemed team of doctors are committed to educating communities about the risks associated with hepatitis and fatty liver disease. "Hepatitis affects people from all walks of life. This World Hepatitis Day, we urge individuals to be proactive in understanding their liver health and adopt healthy lifestyle practices to prevent the onset and progression of fatty liver disease." Dr Kavya added.