Corporate Medical Services in NIMS – Minister Harish Rao
Hyderabad: Health Minister Harish Rao inaugurated the Endoscopic Equipment, MRU Lab, Stem Cell Research Facility, Physiotherapy Department, Bone Densitometer, Sample Transport System Water ATMs. Minister conducting review with HODs of all departments. With Rs 12 crore, various medical equipments have been made available to the public. In particular the Medical Genetic Laboratory became available. A state-of-the-art lab for modifying inherited genetic defects has been made available to the people of the state.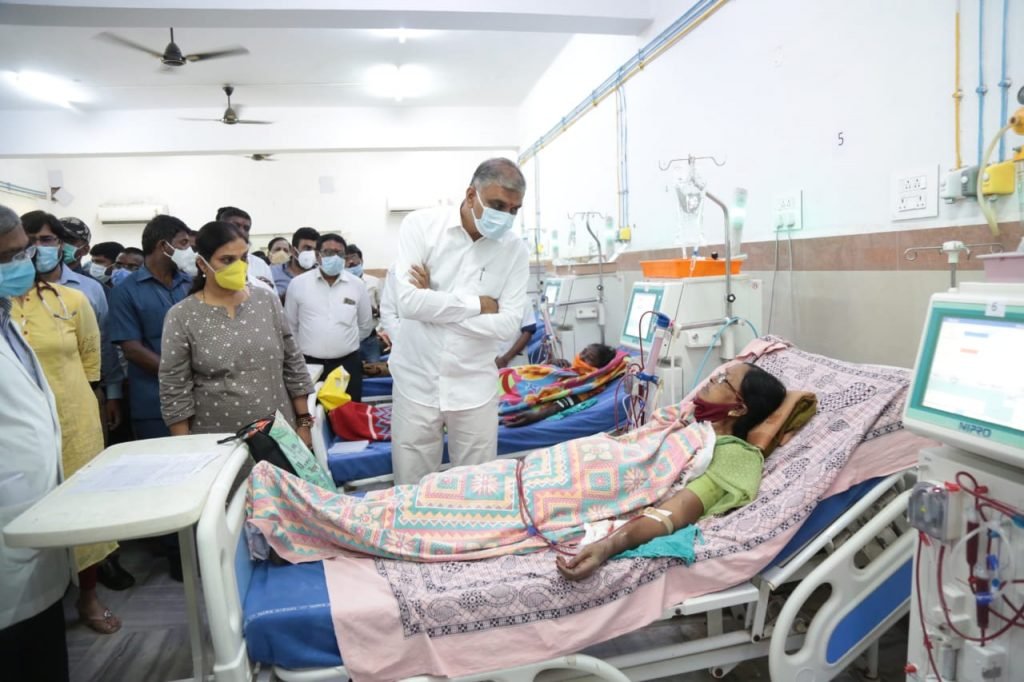 A multi-disciplinary research unit and a bone density meter have been made available at NIMS. This is useful for testing how much bone density there is. It is nowhere in the public sector in the state. It is useful to know how strong the bones are. For the first time it was brought into the public sector in the state.
We have brought a pneumatic view system. Putting the testing samples in it goes into the lab. In return those results will bring return. We brought it in with two and a half crores.
In the past it was difficult to find a bed in Nimes. KCR wants to strengthen NIMs and sanction another 200 bed ICU beds. The 200 beds were ordered to be completed by January 15. When completed, 350 ICU beds will be made available to poor people in NIMS.
Medical services will be provided to the poor people once these beds are completed under any circumstances. The ventilator was hard to find in the past. It would have cost millions of rupees for the poor to be on the ventilator. There are only 89 of these ventilators. We are bringing 120 new letters. A total of 209 ventilators will be available. Ventilators and ICU beds were ordered to be made available within the next 45 days.
Speaking to H Vody, he said some equipment was needed to provide better healthcare in the public sector at the corporate level. Request came from Departments of Radiology, Pathology, Microbiology, Biochemistry, Nephrology, Urology, Cardiology, Neurosurgery. Wanted this equipment. 153 crore is required.
Robotic surgery is important in this. Robotic surgery where the fingers can not go It costs 12 crores. It was wanted. Robotic surgery is not available in the public sector. Other departments want state-of-the-art medical machine equipment.
Linak equipment in radiotherapy will cost Rs 20 crore. Asked the Oncology Department. All of these want to be sanctioned.
154 crore is being sanctioned today to buy this new equipment. This level should be increased. Our goal is to beautify medical services that compete with corporate hospitals.
We are doing bone marrow transplantation for free under Arogya Shree without spending a single rupee. Now 5 Guru is being treated there. Nimes has 8 beds of bone marrow transplantation beds
Thus we are strengthening the public medical sector. We are trying to bring 4 more hospitals along with NIMS. Officials are making estimates.
In Alwal, Gaddi Annaram Fruit Market, Tims, Chest Hospital, four-bed hospitals on four sides, these four super specialty hospitals under the Telangana Institute of Medical Sciences have been decided by the CM KCR.
Trying to raise beds in Nimes.
There is trouble for high-risk pregnant patients. Nimes does not have this facility. A pregnant woman may suffer from kidney, heart, and high BP. Asked to set up a gynecology department to help such people. It was decided to bring the 200-bed MCH Hospital attached to NIMS. High risk pregnant women in the state are more likely to be given good medical care.
Under the payment comes El Vosy involved. Few people are joining under Health Sri. Meals come under Health Sri, those who join under payment do not get meals. The director of NIMS was instructed to put a meal for everyone. The diet prescribed by the doctor was ordered to be given to all patients.
GHMC spoke to them and asked for Rs. Meals were decided to be put here for patient assistants. We will be offering a meal for 5 rupees soon.
Omicron cases did not reach Telangana. We took all precautions. Everyone must obey the rules of the co. Omicron cases have not been reported. 13 cases were negative. Cine, political and sports celebrities should promote the vaccine as a social media platform. With the orders of the CM KCR .. it was decided to do up to one lakh diagnostic tests every day.